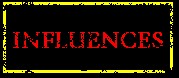 Rocco Rock
Many know that Rocco has passed on, which brings me down but I can say this: For the handful of times that I worked on shows with him, he was always giving me ideas on things to do, and also showing me to respect the business. He's one that got that in my head and that made me understand were I wanted to go in my career. So Rocco, thank you for all the times we shared.
DUSTY WOLFE
Dusty is a person that has really helped start understanding the business. For the short time that I've know Dusty he's helped me understand the meaning of work. Thank you Dusty!
Public Enemy
Rocco Rock & Johnny Grunge
Johnny Grunge
Here's a person that really made me enjoy the business and really showed me that the business can be fun; well afterwards anyways. Johnny's Johnny; he will always be Johnny. Thanks Grunge
Kevin Northcutt
Now Kevin helped me out when I started to learn the ref thing. Between Wolfe's 101's and Kevin's talk's I got the picture. Thanks Kev
Friends In Missouri
They were a few people that helped when I was down and they helped me to stay in the business when things were going on at the time. I thank god that they helped or I wouldn't be here today.
Friends In Arkansas
There were a few people that helped me learned something about the business that I needed to learn, and trust me, it helped major.